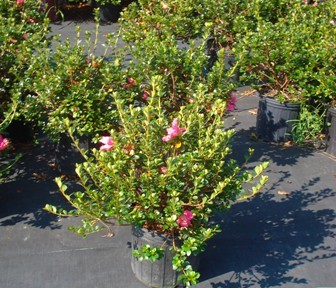 Azaleas are renowned for their stunning blooms, and the
Conversation Piece is no exception. You get dazzling pink
flowers stand out against rich dark green foliage, for a
timeless and elegant addition to any outdoor living space.
Being a broadleaf evergreen, the Conversation Piece Azalea flaunts year-round beauty… but this flowering shrub's claim to fame is its sizeable, striking pink blooms that can measure up to four inches across.
The Conversation Piece's first round of flowers comes with the arrival of spring. You get stunning white blossoms that unfurl to expose wavy-edged petals with bright pink to deep crimson centers. It's not unusual to find a range of rosy shades, all on one bush.
This azalea superstar is a re-blooming hybrid, which means that you can look forward to a repeat performance as fall approaches. Hummingbirds love these flowers, so keep your binoculars handy for enhanced viewing.
The Conversation Piece Azalea shows magnificently as an accent piece or in groups. For an added splash of color, this radiant stunner also looks spectacular when potted in decorative containers and strategically placed on a deck or patio.